Already enrolled?
CCHE can support you in your goals!
At Cook County Higher Education, we know how to make long distance education work for you. Think of us as your personal support team. From academic advising to providing access to tuition scholarships, we do what we can to ease the stress of attending school while living in Cook County. Just look below for all the ways we can help!
CCHE has helped me in so many ways – from after hours meetings to providing a quiet study space and WiFi. If it weren't for them, I wouldn't be as successful as I am today in school. Through all the struggles, CCHE knew just what to do to solve them.
Financial Aid Guiding
The financial aid process can feel daunting. At CCHE, we understand the ins and outs of paying for education. We can help complete the FAFSA application and guide you toward tuition scholarships and grants. Don't let the finances cause you stress – come ask us for help.
College Learning
CCHE collaborates with accredited regional colleges and universities to bring degree programs here. Coursework is delivered through local instructors, online, or Interactive Television. Don't see an online option available, let us advocate for you to see about bringing the class online or via interactive television.
Academic Advising
The Student Support Coordinator is here to support students in their academic goals. Drop in or make an appointment to discuss possible educational options that fit your interest, budget, time line and lifestyle.
Exam Proctoring
Every school is a bit different, so contact the professor of your course and ask them about Proctor requirements. Our staff have the credentials to administer most tests that need proctoring. You can then set up an appointment to have your exam proctored at CCHE.
Student Mentoring
There are a lot of really intelligent people living in Cook County that know about the subject you are having trouble understanding. CCHE's mentoring program will match you with an expert who will help you through your class. You can meet for up to 10 times a semester with your mentor for FREE (mentors are compensated by CCHE for their time). Don't hesitate to ask for help.
Scholarship Offerings
Cook County Higher Education has access to several scholarships to help you through your studies. Each year we give out over $30,000 in tuition to long-distance students living in Cook County. You can be one of them! We also offer smaller scholarships for those expensive textbooks you have to buy. Look at these links to see how you can access the funds.
Instagram Inspiring Posts
Sometimes we need a push of inspiration to motivate us to move forward with our dreams. Catch our weekly words of wisdom every Friday on Instagram @cookcountyhighereducation and Facebook, Cook County Higher Education, for a burst of positivity.
Access for Studying
Get 24 hour access to the internet, quiet study spaces, and printing and scanning services. We have a variety of spaces including the private Lower Level student study room equipped with computers and reference books available 24/7 for those who need a quiet space to get their work done. The front office proctoring room is used to administer tests. Downstairs, you can find the Mark Abrahamson room with ITV and our health care training equipment.
Facebook Tips
The Student Support Coordinator researches educational topics to provide useful tips for students, which are posted to CCHE's Facebook page. Check out "Tuesday Tips" on CCHE's Facebook page at Facebook @cookcountyhighereducation every Tuesday.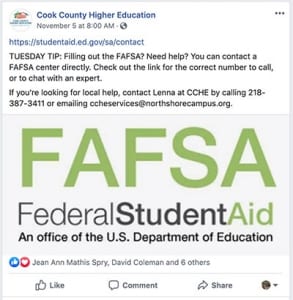 24/7 Online Resources
Essay Writing
Adrea Beres
2019-12-13T08:28:19-06:00
Search for Scholarly Literature
Arrowhead Library Research