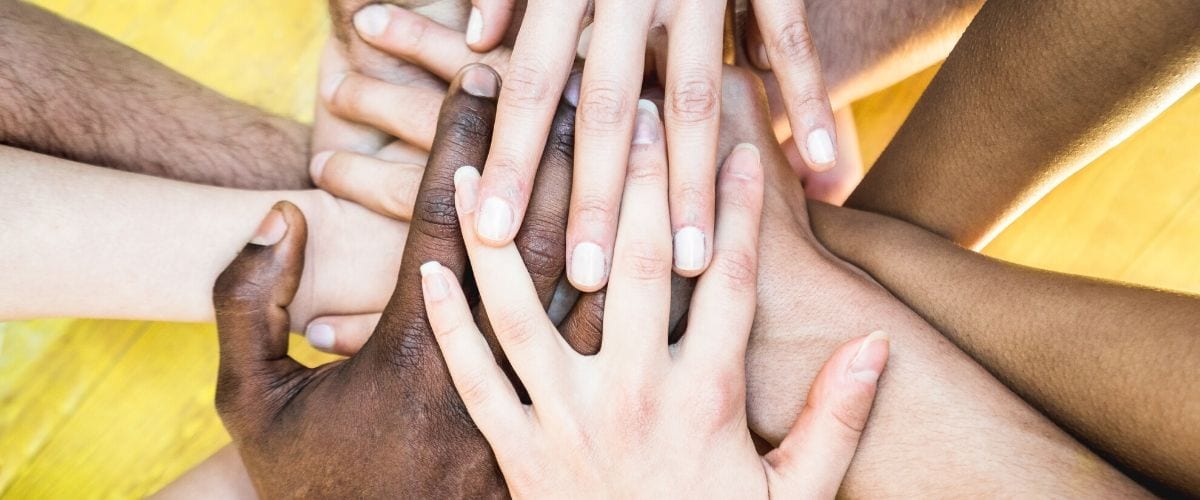 Becoming Anti-Racist – 2 Part Webinar
July 22, 2020 @ 6:30 pm

-

8:00 pm

CDT

|

Recurring Event

(See all)

One event on July 29, 2020 at 6:30 pm
Becoming Anti-Racist – 2 Part Webinar
Presented by Conscious Change Consulting
Date: July 22 & July 29 (This is a 2 part series: both parts are required)
Time: 6:30-8:00 pm
FREE – Donations Welcome – Registration Required
Although recent events across the United States have prompted a fresh look at racism in America and around the world, racism has a long, entrenched history that has permeated every aspect of our lives, from the systems that manifest in our communities, to the ideas, language and beliefs that we have as individuals. This means that we have to constantly (and consciously) WORK at becoming antiracist, and to acknowledge that the process will not end until we can truly do the hard work of changing and dismantling the systems that perpetuate racism – personally and in our communities. If you are interested in making a commitment to antiracism, but you don't know where to start, this two-part webinar is a great start for your antiracist journey. Part lecture and part activities, this interactive workshop provides a hands-on opportunity for learning and reflection, and is intentionally co-lead by an instructor of color and a white instructor.
Part I sets the foundation for our discussion, as we consider the meaning of becoming antiracist, and reflect upon why we as a global community have arrived at this current moment. We explore together why race can be a difficult, yet necessary conversation for all of us to have, and to workshop some ways in which to meaningfully have these conversations about race.
Part II builds upon our learning, setting the stage for the steps we need to take to make conscious change, which will transform our knowledge into action. We put the conversations so far into the language we can use to continue to interrogate the topic of racism and antiracism, and begin to think forward to our shared vision of antiracist communities. By the end of this session, everyone will walk away with some ideas (and hopefully some commitments!) on how they can continue their journeys toward antiracism.
Instructors:
Shona Ramchandani is an accomplished and resourceful equity and inclusion educator with 15+ years of expertise in national and international justice, equity, diversity and inclusion (JEDI) issues. Shona's impressive array of professional career experiences over the last decade and a half have allowed her to do pioneering JEDI work in various fields, from the K-12 system to universities and even museums, in both corporate and non-profit settings, including D&I work at the MN Historical Society and Rasmussen College, and antiracism work for the Science Museum of MN (including being a major contributor to their Racial Equity statement), Anoka-Hennepin School District and Penumbra Theatre. Today, Shona does DEI consulting for some of the best known brands across the world.
Shona earned her Master's in Liberal Studies from Hamline University and currently resides in the Twin Cities, where she is active in her community, whether through mentoring local community leaders, serving on non-profit boards or engaging in the arts.
Christina Buckles is a Principal Consultant with Conscious Change Consulting. She hails from Wisconsin, and throughout her career has worked in project management in various settings, from universities and libraries to healthcare organizations. She is passionate about equity and inclusion, as well as community-based resource sharing and collaboration. She is an active member of Mixed Blood Theatre, Seward Co-op, Minnesota Tool Library, and the Minnesota Library Association.
Christina earned her Master's in Library and Information Science and in Transnational Literature from St. Catherine University and the University of Iowa, respectively. She also double majored in Spanish and Latin American Studies for her Bachelor's at Hamline University. She currently resides in the Twin Cities.
Programming fully funded by Cook County Higher Education.
Share This Page, Choose Your Platform!